Commercial painting involves large-scale paint projects such as stores, office buildings, and restaurants. In some cases, it may include residential buildings, such as apartments and condos. Commercial painting is important because it makes a great first impression on clients, elevates business image, and boosts your brand. It can also foster a conducive and fun environment for your employees.
Is Commercial Painting More Expensive Than Residential Painting?
Residential and commercial paintings are essentially the same type of service. However, commercial painting may be more expensive because of the following reasons:
Project size – Residential painting happens in relatively smaller spaces, such as townhouses. On the other hand, commercial painting involves large areas, such as shopping malls.
Number of painters – Commercial painting projects require more people to meet deadlines.
Equipment and materials – Commercial painting jobs require complex equipment, such as aerial lifts and sandblasters.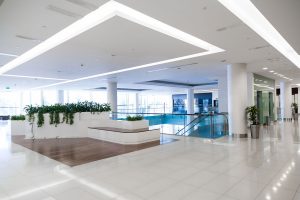 How to Choose a Commercial Painter
Since commercial painting jobs can be costly, you need to work with the best commercial painter. Here is how you can find the most qualified commercial painter.
Start Finding Core Candidates
A quick internet search will reveal all the commercial painting companies in your area. This includes checking social media platforms or websites of the painting companies. You can also check local directories or ask your family and friends for recommendations.
Once you have made a comprehensive list of painters, make a shortlist of those with the right qualifications. Then contact these candidates and invite them for an interview.
Licensing and Insurance
A qualified painting company must be bonded, licensed, and fully insured. Since workers may be injured during the project, it would also be better if the contractor had liability insurance. This ensures you are not held responsible for alleged wrongdoing or accidents caused by the painting company.
Examine Reviews and Customer References
A successful painter must have positive reviews. Therefore, visit the websites of the shortlisted companies and read the reviews left by their clients. Yelp and Google My Business are also good sources of reviews. These reviews offer more information about the company's customer service and general performance.
In addition, the contractor should submit a list of customer references. Reach out to these references and enquire about the contractor's experience.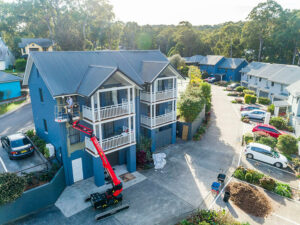 Do They Subcontract or Use Their Own Teams?
Although subcontracting is not always bad, it can lead to poor-quality work. This is because the painting company has little or no control over the project once they hand it to the subcontractor. On the other hand, painting companies with in-house painters will offer consistently high-quality work.
Experience
Amateur painting companies may charge low prices, but they will probably do a shoddy job because they're unfamiliar with commercial painting's specific processes and requirements.
Commercial buildings have a wider range of surfaces and materials than residential buildings. In addition, there are specific products and preparation methods that are unique to commercial painting. Therefore, you need an experienced painting contractor who will use the best products and techniques. The Sydney commercial painter must have been in operation for many years and completed several commercial painting projects.
Communication
Professional painting companies should quickly respond when they are contacted via email, phone, or other communication mediums. Consequently, it would help to stay away from companies that take too long to respond to your queries or never respond at all. In addition, only consider painters that treat you with professionalism and respect.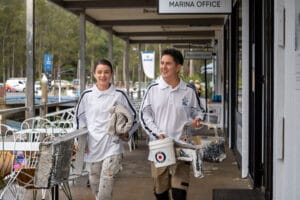 Work With the Best Commercial Painting Sydney
Commercial painting can improve your business's image and create an inviting working environment for your employees. However, this can only be possible if you work with the best commercial painting company. At Upscale Painting & Decorating, we provide high-end commercial painting services. Contact us to get started.