INDUSTRIAL PAINTING SYDNEY
THE SYDNEY INDUSTRIAL PAINTING SPECIALISTS
Sydney Industrial Painting Professionals – For Superior Interior & Exterior Paint Work
Industrial painting is a crucial process that helps to maintain the aesthetic appeal and longevity of industrial buildings. As a professional industrial painting company, we take pride in providing high-quality industrial painting services that meet the unique needs of our clients.
INDUSTRIAL PAINTING IS IMPORTANT
Industrial painting plays a crucial role in protecting industrial structures from the damaging effects of weather, chemicals, and other harmful substances. A well-maintained paint job not only enhances the aesthetic appeal of industrial buildings but also helps to prevent corrosion, rusting, and other forms of deterioration that can significantly reduce the lifespan of the structure.
The Types of Industrial Painting Services We Offer
At our Sydney commercial painting company, we offer a wide range of industrial painting services to meet the specific needs of our clients. Some of our services include:
Epoxy Floor Coatings: Epoxy floor coatings are a popular choice for industrial buildings that require a durable, long-lasting, and aesthetically pleasing floor. Our epoxy floor coatings are available in a wide range of colours and patterns, and are perfect for industrial buildings that require a high level of durability.
Tank Coatings: Tank coatings are designed to protect the interior and exterior of storage tanks from the harmful effects of the substances they contain. Our tank coatings are resistant to a wide range of chemicals, and are designed to provide long-lasting protection against corrosion, rusting, and other forms of deterioration.
Sandblasting: Sandblasting is a highly effective method for removing old paint, rust, and other contaminants from industrial surfaces. Our sandblasting services are performed by trained professionals who use state-of-the-art equipment to ensure a smooth, even finish.
This company has extremely great customer service. I would highly recommend them to anyone seeking painting works for their building. The end product exceeded my expectations.
Our Industrial Painting Promise to You
We will quote accurately and honour our quote
We will use only premium quality materials and paints
We will work around YOUR work schedule
We will treat your work site as if it was our own – with care and respect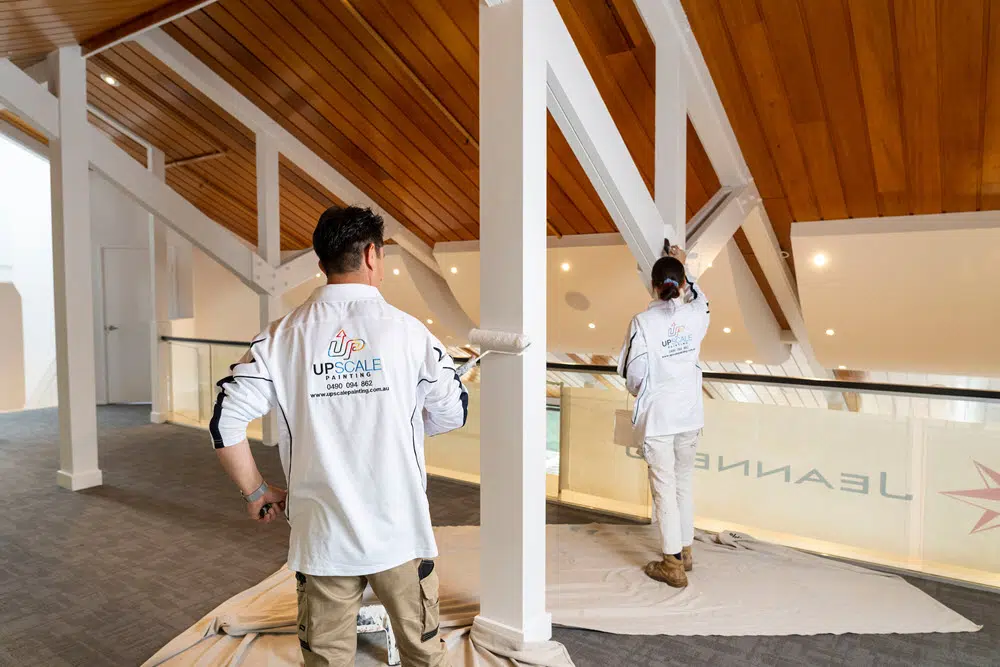 Sydney's Best Industrial Painters
Don't take our word for it. Hear from our customers by viewing the video on this page to see the difference Upscale Painting can bring to your workplace.
Painting Industrial Areas Across Sydney
By their nature, industrial locations can grimy and greasy and experience intense temperatures. In some cases, it's quite the opposite and they require pristine manufacturing facilities. In any event, Upscale cleans as we go. It's the secret to our long lasting, beautiful paint work. Our high-quality results demand clean surfaces.
UPSCALE PAINTING & DECORATING IS A DULUX ACCREDITED PAINTER.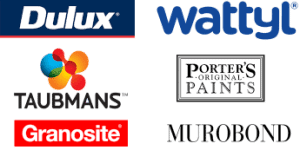 Choose Upscale Painting for your Next Project
Industrial painting is a critical process that helps to maintain the aesthetic appeal and longevity of industrial buildings. At Upscale Painting and Decorating, we are committed to providing high-quality industrial painting services Sydney-wide that meet the specific needs of our clients. With our expertise, attention to detail, competitive pricing, and timely delivery, we are the best choice for your industrial painting needs in Sydney.
Using The Right Paints for the Right Surfaces
Whether you're indoors or outdoors, on metal, plastic or wood, choosing the right paint to get the best results short term and long term makes all the difference. And that's where our close relationship with Dulux paints helps. Our painting specialists have years of experience working closely with Dulux all over the Sydney metro region in all kinds of industrial paint settings. We've amassed a key knowledge on what paint best works in all kinds of settings and climates.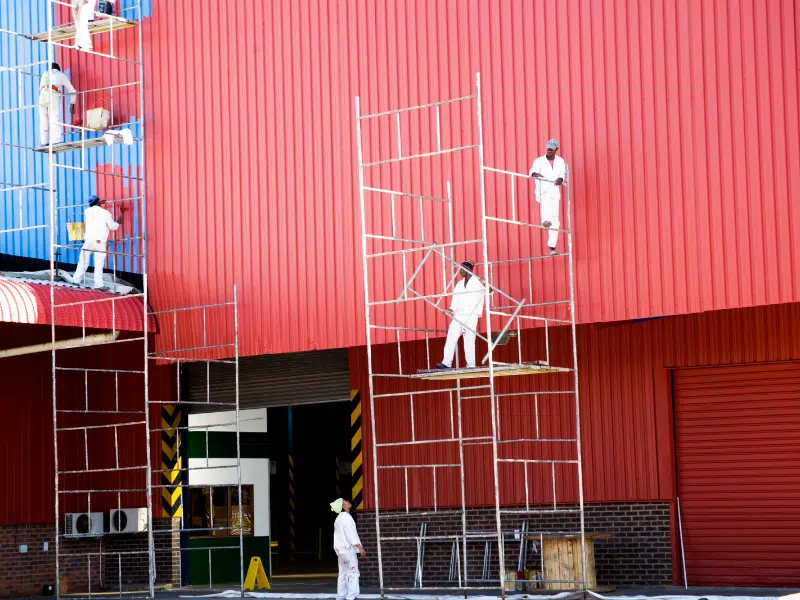 Trust Upscale Painting for Exceptional Painting Results
Industrial painting also implies large facilities and lots of paint work! Our large team of expert painters are up to the task! We'll deploy our team according to your schedule to stay out of the way of your workers. And the results? We guarantee a long lasting, impeccable exterior paint job.
Industrial Interiors Painted with Care
Likewise, our interior paint work speaks for itself. We work seamlessly with your site foremen, managers, security to gain access to building as required, work around your schedule to get the paint work done to perfection in short order, use premium painting supplies and paints to deliver a beautiful paint job on time and on budget as quoted. That's our promise to you.
FREQUENTLY ASKED QUESTIONS
WHY CHOOSE US?
Choosing the right commercial painting service is crucial for the success of your project. Here are some reasons why you should choose Upscale Painting & Decorating for your commercial painting needs in Sydney:
Experienced and Skilled Painters: Our team of painters and decorators are highly experienced and skilled in all aspects of commercial painting. We use only the highest quality paints and materials to ensure a flawless finish every time.
Customised Painting Solutions: We understand that every commercial property is unique, which is why we offer customised solutions to suit your specific needs and requirements.
Competitive Pricing: We offer competitive pricing for all our commercial painting services in Sydney, without compromising on quality.
DO YOU OFFER A WARRANTY ON YOUR WORK?
Yes, we offer a warranty on all our painting work. We're confident in the quality of our work and stand behind it with a written warranty.
ARE YOU LICENSED AND INSURED?
Yes. We are fully licensed and insured to carry out commercial painting services in Australia.
HOW QUICKLY CAN YOU START?
Once we have your sign-off, we can start within a few days. We will require a few days to prepare everything together including the materials, equipment and team.
Does your Industrial Space need to be painted?
Speak to Sydney's Best Industrial Painters Today!